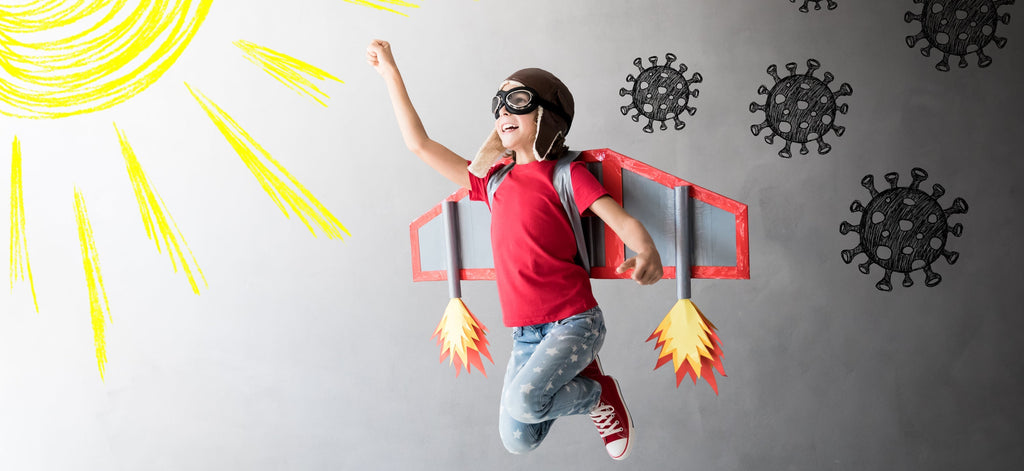 When it comes to proper nutrition, it can be a huge task to get your child to eat their veggies, but if your child has autism, then the stakes tend to be much higher. Children with autism tend to limit their food intake or have extreme preferences - beyond just being a picky eater - which may result in nutritional deficiencies. 
You may have started to research vitamins and minerals that can help improve speech, sleep, or calmer behavior in children with autism, or maybe you just want to learn more about what nutrients we chose to include in Simple Spectrum supplements. We highlight 5 of the top supplements for Autism within our formula and do a deep dive into how and why they can help your child. 
Choline
Choline is an essential nutrient that can make a world of difference when it comes to brain development. If this is the first time you have ever heard of this nutrient, you are not alone. Many parents do not learn the effects that nutrient deficiencies can have on their child's brain health and development until their child is already showing signs of said deficiency.
Yes, there are natural ways to ensure your little one is getting enough choline by increasing their intake of meats, fish, nuts, or beans, but if your child is a picky eater, you know that this may be a bit challenging. That is why we made sure to include the recommended amount of choline into our formula. This essential nutrient works by boosting the chemicals in your brain that form thoughts and memories, which, in turn, contributes to overall brain function. By including this nutrient in our formula, we hope to bridge the nutritional gap commonly associated with picky eating habits that you may recognize in your child.  
Inositol
If you are familiar with Simple Spectrum, you know that our formula contains the top research-backed nutrients that support healthy brain function, and this is why we made sure to include inositol. This mood-enhancing essential nutrient can be found naturally in citrus fruit and many fiber-rich foods. Still, as with most vitamins and minerals, it's hard to make sure your child is receiving their daily amount of nutrients without the help of supplements. Simple Spectrum Nutritional Supplement contains the daily amount of inositol to support a calming mood via serotonin, the hormone that makes us happy.
Coenzyme Q10
Coenzyme Q10 (CoQ10) has gained a lot of buzz on parenting blogs by people who have credited the essential nutrient for improving verbal communication, sleep patterns, and eating habits in children with Autism. Although not all of these claims have been substantiated by clinical research, some studies suggest CoQ10 supplementation can reduce oxidative stress in children with Autism. In addition to reducing oxidative stress, this essential nutrient supports an antioxidant that amps up brain energy production while promoting calmer behavior in children. This is why when we were formulating Simple Spectrum, we made sure to include this essential nutrient. 
MSM
Studies have shown that the majority of children who have Autism also show signs of nutritional deficiency and impaired gut health. This is important because, as we know, a significant amount of the immune system develops in the gut, where microbes are neutralized, and nutrients are digested and absorbed. 
As scientists and doctors learn more about the relation between nutrition and autism in children, experts have suggested that healing and restoring the gut could be a vital step in the integrative management of autism, which is why we wanted to include MSM into the Simple Spectrum formula. MSM (Methylsulfonylmethane) is a chemical compound naturally found in humans, animals, and many plants. In addition to assisting in rebuilding the lining of the GI tract, this chemical compound has been linked to improved absorption abilities and reduced inflammation within the gut.
That's a lot of information so let's keep the bottom line simple: MSM helps the body clear waste products and aid its natural inflammation support systems. 
HydroCurc (curcumin and Tumeric) 
Curcumin is a natural chemical produced by the Curcuma longa plant, also known as turmeric - a name that you are probably more familiar with. This ancient spice has been widely linked in reducing inflammatory responses due to its abundance of antioxidants.
Strong states of inflammation have been associated with ASD, which is why we wanted to include curcumin/turmeric into the Simple Spectrum formula. HydroCurc contains a unique water-soluble form of curcumin that can be absorbed into your body for antioxidant benefits that support the proper inflammatory response. The issue with turmeric, on its own, is that the antioxidants don't always reach our cells for absorption, which is why HydroCurc is so vital.

We know that not every parent has the ability to consult a biodoctor, which is why we want to make sure that you not only have access to Simple Spectrum supplements but that you understand how each of these nutrients and ingredients works together to nourish your child's growing mind. 
We are one of the top supplements for autism in children because our formula is an optimal blend of the best nutrients designed to help your child thrive and be the best version of themselves.